Dom Tower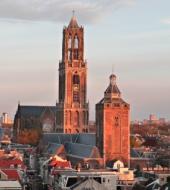 The Dom tower is more than 600 years old and is the symbol of the city of Utrecht. It is also the tallest church tower in our country. You can climb the medieval tower in an hour, with a guide. During the climb you will learn all about the bell chime and the largest bells in the Netherlands. Once you have climbed the tower, which has 465 steps, your sporting performance is rewarded with a magnificent view!
Opening hours
The Dom Tower is open every day.
Sundays and mondays: 12.00- 17.00 h
Tuesday-saturday: 10.00-17.00 h
Address
Domplein 9 - 10, Utrecht
Public Transport
Bus: 2 stop: Domplein
The ticket will be sent within 24 hours in a seperate e-mail.

Send by email